Description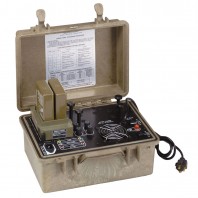 Bren-Tronics Ni-Cad Battery Charger PP-8444A/U
 Multi-voltage input universal battery charger
Used/surplus good condition.
This is a high performance lightweight portable unit to provide fast charging of various types of rechargeable batteries.
Military#: PP-8444A/U
NSN: 6130-01-443-0970
This discontinued charger will only charge NiCad military batteries with the proper adapter. Will not charge Nickel-metal hydride or Lithium-ion batteries.
Includes J-6358A/P battery adapter for use with the BB-390B/U NiCad battery.
PLEASE NOTE THE SECOND AND THIRD PICTURES IS THE ONE THAT IS AVAILABLE!!!!!
● Designed for field deployment or use in a shop environment
● Capable of fast charging 2 similar batteries in 2 hours
● It is equipped with 4 cord posts which is used for the wrap-around storage of AC input cord
● Charger does not support the BB-2590/U battery
● The PP-8444A/U is not software upgradeable as it does not have the ability to be upgraded.
Size / Weight
Length

13.25 in, Cable: 60 in (337 in, Cable: 1524 mm)

Width

10.5 in (267 mm)

Height

7 in (118 mm)

Weight

11 lb (5 kg)
Other
Materials / Color

Hi-impact ABS, Olive Drab

Power Requirements

85-132V, 170-265Vac, (47-63Hz), or 24Vdc

Storage Temperature

-40˚C to 70˚C (-40˚F to 158˚F)

Temperature Operations

0˚C to 50˚C (32˚F to 122˚F)
Export Restrictions Warning: Export of U.S. manufactured night vision equipment is strictly prohibited without a valid export license issued by the U.S. Department of State Office of Defense Trade Controls, in accordance with International Traffic in Arms (ITAR), Title 22, Code of Federal Regulations Part 120-130, and/or the U.S. Department of Commerce. For further information contact the Office of Defense Trade Control @ (202) 663-1282 and / or the U.S. Department of Commerce.